Strike Plate

10mm plate behind lifting bar

Bale Bar

Lifting Bar in 'A' frame. Diameter 65mm EN14

Wear Strip

Reinforcing flat bar welded to bottom of subframe for extra wear properties. 65 x 10 thick

Infills

Reinforcing welded between base and subframe runner

Crossmembers

Floor supports welded onto subframe between crossmembers to support floor

Turnbuckle

Open rigging screw with a hand operated wheel

Cross Bar - Tie Bar - Goalpost

Support for sides of container at door end across container. Can be level, raised or raked forwards or backwards. RSC, RHS or Tube.

RSC

Rolled Steel Channel

PFC

Parallel Flange Channel

PSA

Pressed Steel Angle

Chip Breakers

Strengthener welded to inside of base plate.

Swaged

Method of joining metal pieces together.

Bump Plates

Deflectors for directing FEL (Front End Loader) tines into lifting pockets.

Charge Box

Void space in a compactor that can be filled with waste and pushed into the container via the compacting blade (platen).

CHEM

Container Handling Equipment Manufacturers Association - not for profit members organisation to establish guidelines for container and vehicle design, to ensure correct interfacing of products and the promotion of health and safety standards in the waste industry.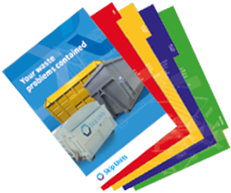 To request a copy of our brochure, click here