Randalls Fabrications have an excellent track record in providing compaction solutions to waste management problems. We have considerable experience in developing waste compaction systems for transfer stations, civic amenity sites, retail outlets, food processing plants, waste collection depots and various industrial and commercial applications. In addition, our ability to work closely with all parties ensures that you are provided with the precise 'tailor made' solution to solve your waste containment and collection requirements.
Compaction is the cost-effective alternative to traditional methods of handling high volume waste. Compaction condenses bulky waste into a reduced manageable volume and reduces the number of costly collections. It can also help to improve general housekeeping by removing the possibility of waste escaping from open containers.
Randalls Fabrications Simpak compactor range has earned an excellent reputation over many years of heavy usage at numerous sites around the UK. Their proven design and quality manufacture ensures efficient operation and minimal maintenance. The Simpak range includes a multitude of designs for various requirements such as restricted space, portable, traversing and mechanical feeding.
Our team are keen to be involved in system development from stage one, providing expert planning, design advice, site surveys etc through to project completion. We provide a full installation service and after sales support is provided by a dedicated service team.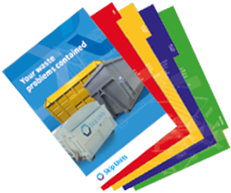 To request a copy of our brochure, click here