Our leading range of open and enclosed demountable containers are designed and manufactured to meet all waste handling requirements and can be supplied in a variety of configurations; plain, swaged, smoothside, curved side etc and are suitable for all types of ground level demountable handling equipment.
Our demountables are designed to meet the most arduous operating conditions. Utilising premium grades of steel throughout and combined with the highest levels of fabrication and quality assurance, we supply a 12 month manufacturer's warranty.
Special reinforcing sections are widely used on the headboard and sides, which rest on an underframe that's fabricated from steel channel and box sections.
Our standard demountable container is suitable for hook lift equipment, however we cater for all forms of lifting equipment including cable and chain. A dual lift container is also available and can be operated by both hook and cable lift vehicles. Smoothline & Smoothcurve containers provide improved aerodynamics for reduced fuel costs and allow for larger display areas for corporate identity use.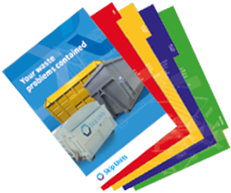 To request a copy of our brochure, click here