Skips for all waste types
We offer a full range of standard skips including open, closed, easy discharge and skiplift compaction containers.
Our skips are manufactured with reinforcing plates and gussets to protect vulnerable areas and stress points. Base, tip ends and sides are made from hot rolled prime steel plate and our standard units are reinforced with a double rail using 76mm x 38mm rolled steel channel.
Lifting pins are drop forged and pass through the reinforcing channel and the side wall of the container. They are further strengthened by the use of a backing washer and then fully welded inside and out.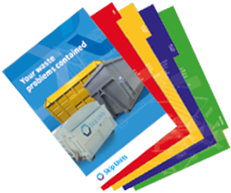 To request a copy of our brochure, click here