Introducing the NEW Skip Units 4 Wheeled Metal Bin Range
After over 40 years of undisputed leadership in the large metal waste container market, Skip Units is bringing its unrivaled engineering expertise to its Skip Units 4 Wheeled Metal Bin range.
Moreover, the range has been designed to fully integrate with the DuraFlex range of trade waste and recycling lids, giving customers an unbeatable combination of durability and operational flexibility.
Plastic wheeled containers can also be supplied with a range of lids and locking options.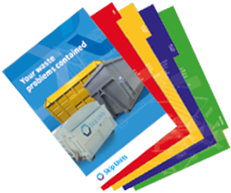 To request a copy of our brochure, click here