Standard specification
Single compartment modular container suitable for use with Twin Hook system. Popular for use on many applications including recycling of cans, cardboard & textiles.
Bottle and Can: Double bottom discharge door. Two loading apertures with rubber insert.
Sizes Available: 2.5 yd, 3.7 yd & 4.8 yd
Special modular style Skiplift bottle banks with up to 3 compartments and up to 8 yd capacity are available.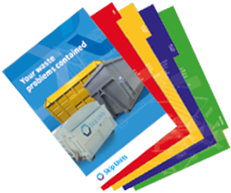 To request a copy of our brochure, click here